Coronavirus - What you should known

We are working hard to limit the effects of the Coronavirus on our business and tenants, but naturally with the Government's ever evolving guidlines, we are having to change our normal business practices to help keep us all safe during these difficult times. We have put together useful information to help support you. As the situation changes, we will look to update this page with relevent inforamton for our tenants.

Our offices will remain closed until it become safe to reopen in accordence with Government advice. We are contactable by email or phone, but we prefer email so that we can best handle your enquiry.

Social distancing: what you need to do
To stop the spread of coronavirus (COVID-19), you should avoid close contact with anyone you do not live with. This is called social distancing.
We ask that you practice this in and around our buildings, including hallways, meter rooms, communal gardens, bin stores and any other place you may come into contact with those not part of your household.

General Information

Stay alert
We can all help control the virus if we all stay alert. This means you must:
stay at home as much as possible
work from home if you can
limit contact with other people
keep your distance if you go out (2 metres apart where possible)
wash your hands regularly
Do not leave home if you or anyone in your household has symptoms.
The government will look again at these measures after three weeks, and relax them if the evidence shows this is possible.
Click here for up-to-date information from the Government
​​Maintenance Issues

The Government's advice regarding the movement of people is becoming more and more limiting in order to prevent the spread of the virus. This is naturally affecting the way we can carry out maintenance tasks.

Where possible, we are not attending any properties until the Government relaxes the rules around movement, but we understand that there may be issues that require our immediate attention.
All maintenance when reported is allocated a 'priority catagory' which helps to determine the urgency for the issue to be resolved. We will be only atteending catagory A issues, but with strick ways in which our contractors can attend, for we must consider both their safety and yours.
When reporting a maintenance issue, you will be asked a serise of questions to help understand if your property is high or low risk to visit. However you must make it clear to us if there is anybody in the property or visited with sympums. You must also tell us if you are in isolation and when this will come to a potential end.
We are advising that if a contractor is in your property and you are not able to leave it during the works, you must stay isolated away from them in another room while they are carrying out the necessary task. You must not go near them so as to limit the amount of interaction. Our contractors will only enter the property if they feel comfortable and safe doing so and that you listen to what they ask you to do.

We must all work together in order to allow us to continue functioning and best serve our tenants.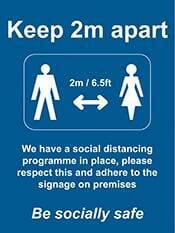 Social Distancing

Help us to control the virus by keeping as far away from others when they visit your property to carry out maintenance and inspections. We may be wearing 'personal protective equipment' to safeguard you and us on our visit.
If we are scheduled to visit your property and some shows symptoms of the virus, contact us immediately to cancel the appointment. We will rearrange when it is safe to visit.

​​Commercial Tenants

To all of our commercial tenants, the Chancellor has set out a package of measures to support businesses through this period of disruption caused by COVID-19.
These include:


A Coronavirus Job Retention Scheme

Deferring VAT and Income Tax payments

A Statutory Sick Pay relief package for SMEs


A 12-month business rates holiday for all retail, hospitality, leisure and nursery businesses in England

A small business grant funding of £10,000 for all business in receipt of small business rate relief or rural rate relief

Grant funding of £25,000 for retail, hospitality and leisure businesses with property with a rateable value between £15,000 and £51,000

The Coronavirus Business Interruption Loan Scheme offering loans of up to £5 million for SMEs through the British Business Bank

A new lending facility from the Bank of England to help support liquidity among larger firms, helping them bridge coronavirus disruption to their cash flows through loans

The HMRC Time To Pay Scheme
Full details can be found by following this link and we strongly advise that you keep a regular eye on this, for there will be updates:
https://www.gov.uk/government/publications/guidance-to-employers-and-businesses-about-covid-19/covid-19-support-for-businesses

It is recommended that you contact your accountant and the bank you do business with to help guide you though the options.

The Government has asked local authorities to manage the hand out of grants to businesses, so we recommend that you search the website of the councii your business is located in and complete the online form with the requested details. This form is definately available for Medway, Hackney and Tower Hamlets. They will ask you for your business rate account details and your bank account details.

We understand that these measures have been put together in order to allow businesses to support their employees and continue to meet their obligations. It is vital that all businesses take advantage of these measures as soon as possible, so as to limit the negative effects felt now and in the future.

We ask that if you are experiencing difficulty paying your rent, that you contact us immediately to discus the matter and come up with an action plan.
Our business is very reliant on rental income, which in turn covers our obligations and so we ask that by meeting your obligations you are allowing us to do the same.
We also ask that you all observe the government's guidelines regarding which businesses can operate and how.

We wish you all the very best of health from all of us at Ikon Estates Group.


​​Residential Tenants

We are reviewing the ever developing situation and will continue to update this section in accordence with government guidlines. We ask that you revisit the page regularly. We will be updating the page in accordence with the changes we must make and advise you accordingly.

Private Tenants

We appreciate that for some, your income may be affected during this time and so we have put together information and links to help reduce the finacial impact on you. It is important that you act fast the minimise the affect and we strongly recommend that you apply for the relevent Government support package if needed.

Universal Credit

You may need to claim Universal Credit: and here is the Government's step by step guide on how to do so.

Click here for the Government's step by stop guilde

Self-Employed Income Support Scheme

The Government has anounce how to claim a grant through the coronavirus (COVID-19) Self-employment Income Support Scheme. Follow the link below to learn more.
Click here to learn more abou tthe scheme

Employee Support
The Government has put together a veriaty of business packages which aims to retain employees. See the link below for more information.
Click here for how employees are being helped

Additional Support

The Citizens Advice have put together some useful guidence on how to handle your rental situation:
https://www.citizensadvice.org.uk/debt-and-money/if-you-cant-pay-your-bills-because-of-coronavirus/#h-if-you-can-t-pay-your-rent

Trouble Paying Your Rent

If you are incountering difficulty paying your rent, we ask that you contact us immediately to discuss the matter and to put together a plan of action. You should also look at all of the Government's help packages to support you through this time, for any rent not paid will still be owed.

Council Clients

If you have been placed in one of our properties by a council as emergency/temporary accommodation, then your rental payment is a matter for you to discuss direct with the council that placed you.
We are responsible to manage and maintain the property, but the council handles all financial related matters. Please note, it is the council that placed you in the property and not necessarily the council for which the property is located.

Weekly Signatures
For some council clients, we are required to obtain your signature as proof of you living at the property. We will not be doing this for the foreseeable future so as to avoid any unnecessary contact. We will contact you as soon as this changes.

Vacating The Property

If you have been advised by the council to vacate your accommodation, then you must contact immediately to inform us of this.

Utility Bills
All questions relating to gas, electric and water bills or prepayment key/cars should be directed to your provider. It is very important to stay up to date with your bills so that you can avoid a lose of service during this time.
We recommend that you keep your gas and electric key/card topped up and in a safe place. If you do lose your means of topping up (card/key), you must contact your provider for a replacement, do remember that their lines will be extremely busy at this time.
If you are unsure who is your utility provider then use the following link to find out:
https://www.findmysupplier.energy

EDF Energy has put together some useful information for their customers during this time which can be found on the following link:
Spare Keys & Access

Due to the restrictions on movement and contact, so therefore it will be difficult for us to provide spare keys and give access where someone locks themselves out. We highly recommend that you keep a spare set of keys with someone nearby just in case, but also observe the safety precausions to must practice to limit the possible spread of the virus.

General Guidence

We ask that you please keep up to date with the Government's advice about keeping safe and preventing the spread of the virus.
https://www.gov.uk/coronavirus

We wish you all the best of health and keep safe.